Author Joel Salatin at the Four States Agricultural Expo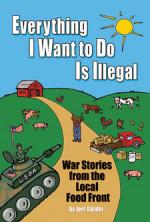 Questions you may want to ask author and farmer Joel Salatin, of Polyface, Inc, the so-called "farm of many faces," when he talks at the Four States Ag Expo at 10 a.m. Saturday, March 21, and again at 2:30 p.m.:
1. What is clean meat?
2. Why do farms need to go beyond "organic"?
3. What was it like to be featured in the great Michal Pollan's Omnivore's Dilemma?
4. What is the most horrendous practice still being done on big corporate farms in your opinion?
5. What can we regular-old eaters do to help?
6. What do you think of GMOs (Genetically Modified Organisms)?
7. In terms of new food and farm legislation, what should President Barack Obama do?
8. Describe the taste of an organically produced, locally produced tomato versus a tomato grown in a far-away land on a big farm.
*Joel Salatin will also bespeaking at The La Boca Center for Sustainability 2009 Annual Meeting in Durango from 1 to 4 p.m. Sunday, March 22. Get your tickets here.

Leave a Comment so far
Leave a comment